Todo lo que está abajo fue sacado de:
https://www.scienceofpeople.com/team-building-activities/?utm_campaign=Weekly+Wednesday+Win+2%2F27%2F2019&utm_content=Weekly+Wednesday+Win+2%2F27%2F2019+-+variation&utm_id=jotacordova79%40hotmail.com&utm_medium=email_action&utm_source=customer.io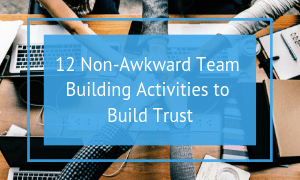 One of the hardest parts about working on a team is finding ways to connect, build trust and bond. This is why non-awkward team building activities are one of the best ways to kickstart your group. These team building activities can be used for:
Work teams
Sports teams
Professional development teams
Why is team building important?
No matter how smart, effective or impressive your team members, if you don't have  reciprocity and team trust, you cannot work together well. A close-knit, high trust team is also more productive. I want to show you why team building is not a "nice to have," it's a "need to have." The best way to approach your team building activities is with team science
Team science is a scientific approach to collaboration that leverages the strengths and expertise of professionals trained in different fields.
We can use team science to build trust in a team. Before exploring my favorite science-based team building activities, games and exercises that will help your team bond, I have a few notes for you, the team or activity leader.
How to conduct team building activities:
It's important you set up your team for success before the bonding begins. Here are a few recommendations:
Prepare your introverts. Extroverts almost always are down for a bonding activity. Whereas introverts often need a little bit of prep time. If you want to do one of these team bonding activities in a meeting or in a daylong workshop, send out an email ahead of time with the agenda. This lets introverts know you will be having bonding activities. If you decide to go deep and use some of the personal conversation starters below, then you might consider sending those ahead of time for introverts to prepare.
Nourish the belly, nourish the mind. I always like to have some special food or drink before, during, or after these team building activities. You never want to ask people to step out of their comfort zone on an empty stomach!
Get buy-in. If you have a boss, manager or superior attending your team building activity, be sure to give them an overview ahead of time in case they have something special to say or they want to lead the activity.
Now let's dive into my favorite team building activities for work and play. Remember, every team is different, so you might have to try a few to find the right fit for you.
#1 Pet Projects
Time recommendation: 15 minutes
Virtual Teams: Great for phone and video conferencing
Everyone has a secret hobby, side-hustle or passion project that they run home to on evenings or weekends. The problem is there is rarely an opportunity or safe space to share it. One of the best team building activities is having everyone on your team share their favorite pet project. This can be a current project, a past project or even a desired project.
Activity: Ask everyone to go around in a circle and answer the following question:
Do you have a passion project or hobby you look forward to doing in your time off?
Why it's not awkward: When people have a pet project they LOVE to have space to talk about it. And when someone doesn't have a pet project — no problem! Just switch the question to: "If you had unlimited time or money, what would your pet project be?" It's fun to get wishes too!
#2 Pest Projects
Time recommendation: 10 minutes to 30 minutes
Virtual Teams: Great for phone and video conferencing
A little deeper than a pet project is something I call a pest project. This is an advanced communication technique I teach in People School. A pest project is a part of someone's life that they want to improve. It can be a skill someone is dying to learn. It can be a weakness someone wants to overcome. It even can be a source of anxiety someone is hoping to solve. A great team building exercise is sharing vulnerability. With this team building activity you want to create a safe space for team members to build trust through vulnerability.
Activity: Have people go around the table and answer one or all of the following questions. They can do these with partners or with the entire group:
Intimacy Level 1: What's one skill you always have wanted to learn?
Intimacy Level 2: If you could change one thing about yourself what would it be?
Intimacy Level 3: What do you worry about most?
Bonus Level: If you really want to promote bonding amongst your team members, you can assign them one of (or all of) "Arthur Aron's 36 Questions" to truly get to know someone. You can assign people to do them all at once in a daylong workshop, or even to do one at the start of every meeting.
Why it's not awkward: People love talking about themselves when they are given permission and a safe space. These kinds of questions allow people to share vulnerable aspects of themselves and there is NO BETTER WAY to build trust.
#3 Team Building Games
Time recommendation: 60 minutes
Virtual Teams: Too difficult over video or phone
One of the best ways to build trust on a team is with old-fashioned board games! These are also great if you want to pair new team members with old team members or break up an office clique by re-assigning partners. Here are some of my favorite team building board games:
Code Names: This is one of my favorite games of all time and is both fun and challenging.
Apples to Apples: This is great for getting to know your team's personality preferences.
Candyland: For pure nostalgia, bring out Candyland AND some bowls of candy along with it. Everyone will be feeling sweet by the end!
My full list of favorite games for bonding here!
Why it's not awkward: Have people vote for which board game they want to play. Oftentimes board games bring up great memories and get people out of their typical work roles. It's an easy way to bring fun into your team.
#4 Start, Stop, Continue
Time recommendation: 20 minutes to 40 minutes
Virtual Teams: Great for phone and video conferencing
Do you want your team building activity to be work-related? Great! Then the exercise "Start, Stop, Continue" is for you. This exercise is great for resetting goals on a team. Need to kickoff the New Year right? Start with "Start." You even can do this team building activity once per month! We do it on my team all the time.
Activity: An overview of one of my favorite team building exercises.
#5 Food Friends
Time recommendation: One meal's worth!
Virtual Teams: No
One of the fastest ways to create bonds between people is to add food. It's the ultimate commonality — we are human, so we all eat! This great research even found that eating the same food can increase people's trust. You can use food in many ways for a team building activity:
Host a cooking class. Have a team retreat at a local cooking school and then do team icebreakers over the shared meal.
Cook together. If you really want to get personal, host people at your home and do your own impromptu cooking class together.
Potluck. Not a great cook? Don't worry! Host a potluck at a local park, for a Friday lunch in the boardroom, or at a team member's home. Then people can show off their cooking skills if they like, or bring a goodie from a local bakery.
Catered meals. The last choice here is simply bringing in more catered lunches or breakfasts to your monthly meetings. Remember, every time you feed people they get less hangry and bond more.
Why it's not awkward: Food is the easiest way to make conversation — even with colleagues who don't know each other that well. Especially if you have an introvert who is an expert baker, they might be able to use food as the ultimate bonding agent.
#6 Professional Development Videos
Time recommendation: 10 minutes
Virtual Teams: Great for phone and video conferencing
A great team bonding activity is watching a professional development video and having a short discussion. You can do these at the start of weekly meetings or even send them out ahead of time for people to watch on their own before a short discussion. You also can have team members send suggestions to the group based on their findings. Hopefully, the videos can spark learning and conversation! We have tons of free professional development videos on our YouTube channel.
Activity: Send out these videos ahead of a meeting to be discussed or use them as an icebreaker and watch them together at the start of a meeting. Here are some of my favorites you can start with:
Why it's not awkward: Learning is a wonderful way to keep employees engaged and stimulated on a team. Watching a video from outside the organization also can bring in some fresh perspective and stimulate interesting conversation.
#7 Use Nostalgia to Build Trust on a Team
Time recommendation: 5 minutes to 20 minutes
Virtual Teams: Great for phone and video conferencing
Why do we do team building activities at all? Trust! It's incredibly important to do trust building activities for your team. There are a few ways you can trigger more trust on your team — and no, not with trust falls! No one likes those. My favorite non-awkward way to build trust for your team members is by using: Nostalgia. Nostalgia is a sweet emotion that is one of the fastest ways to build connections. And it's very easy to use as a trust building activity with what I call "nostalgic icebreakers."
Activity: Ask one (or all) of the following questions. In a small group have everyone take turns answering, in a big group have people partner up. Choose from one of these nostalgic icebreakers:
What is your favorite childhood memory?
What was the best present you ever received?
Who was your role model growing up?
What was the best birthday of your life?
What have been the highlights of your life?
Bonus: Bring in a favorite childhood photo and share a story about it with the group.
Why it's not awkward: Sure, childhood can be a little awkward, but these icebreakers allow team members to choose the most favorable memories to relive. In this way you harness nostalgia without the embarrassing memories.
#8 Alphabet Work
Time recommendation: 30 minutes
Virtual Teams: Great for phone and video conferencing
This team building activity will help your team understand skill levels and expertise. One of the hardest parts about integrating new team members can be learning about each other's strengths and weaknesses. This exercise is a wonderful one to do once or twice a year, especially when merging teams or bringing on new members. I call it Alphabet Work.
Activity: Here is an explanation of Alphabet Work and video overview:
Why it's not awkward: This activity should help ease any tensions or awkwardness already lurking on a team. Have people been stepping on each other's toes? Do you sense competition between members? Do this exercise ASAP!
#9 Teach Me!
Time recommendation: 15 minutes for each person
Virtual Teams: Great for phone and video conferencing
One of the best ways to build confidence on a team is encouraging people to be an expert in their field. Most team members share their professional expertise with their team every day, but they don't often get the chance to show other areas of expertise. A great exercise is having each team member teach the group something. This could be anything from how to make sushi, to how to read sheet music, to how to arrange flowers, to 10 words in Spanish. The goal here is giving each team member a few minutes to teach the group something non-work related. You could have a teaching day, where everyone shares or you could assign one person a week. This is a GREAT way to kick off a weekly meeting, with a new teacher each week.
Activity: Set aside teaching time during a meeting and give people 15 minutes per person to present. Do this in one big teaching day or at the start of each meeting until every person on your team has had a turn to go.
Why it's not awkward: You are giving team members a chance to show off in a safe way. This is also a great way for team members to learn about each other. The best part is, they choose what they teach. Simple or complex — it's up to them!
#10 The One Question Icebreaker
Time recommendation: 10 minute per icebreaker
Virtual Teams: Great for phone and video conferencing
Want to keep it simple? The one question icebreaker at the start or end of a meeting is one of the easiest ways to get team members to know each other and connect. I have a few favorites below, and the full list of our professional icebreaker activities to warm up any meeting here.
Activity: Have everyone go around and answer one of the following icebreakers. In a small group everyone can answer for the room. In a big group have people partner up and answer one of the following:
What's one thing the group doesn't know about you?
What's your favorite TV show?
What's your favorite meal?
What's your dream vacation spot?
What book, movie or TV character is most like you?
If you could meet any person, living or dead, who would it be?
Bonus: Do Show & Tell. Another fun icebreaker is to have people bring in one item to show and tell. You can do these all in one day or assign a new person each week. It's a great pre-meeting icebreaker.
Why it's not awkward: These questions are designed to have no wrong answer. In this way, people can feel free to open up as much or as little as they please. This allows introverts to open up more slowly and extroverts to take the stage in a controlled way.
#11 Book Club
Time recommendation: 60 minutes
Virtual Teams: Great for phone and video conferencing
Reading is a great way to promote team cohesion AND learning. You can choose to do a team book club with a fun fiction book or assign the team to read a professional development book on a skill that will help with their work. Even better — let each team member rotate picking the book for the month. Then at the end of the month have that team member lead the discussion over a lunchtime session. You will get a variety of books and opinions. Here are some great books we recommend, with corresponding summary articles you are welcome to use for your discussions.
Activity: Discuss one book over a meeting and vote on next month's selection.
Why it's not awkward: Rotating book choices is a great way to make sure everyone gets a turn and different interests are being tickled. It also allows people to share their personal favorite books with colleagues and have something new to bond about.
#12: Learn Team Science
Time recommendation: 10 minute warm-up at the start of weekly meetings
Virtual Teams: Great for phone and video conferencing
The ultimate team building activity is learning about team science together. You have a few ways to do this. First, I recommend watching a video to be discussed at the start of each meeting as a warm-up.
Activity: Here are some specific resources we have on team science you can watch together (or send these videos out ahead of time to be discussed):
You also can take courses together. This can be a short and sweet class on a small professional skill, such as speed-reading or writing in shorthand. You also could bring in an expert to speak to your group or lead a workshop. You also can have your team go through an online training session together. There are many great options out there! Here are a few we can help with:
Live Trainings: I lead innovative science-based communication workshops on body language, leadership and soft skills. More here.
Online Training: Our flagship corporate training course is called People School. We have hundreds of students from Fortune 500 companies all over the world who take our trainings as a team. Email us for more info for your company at support@scienceofpeople.com.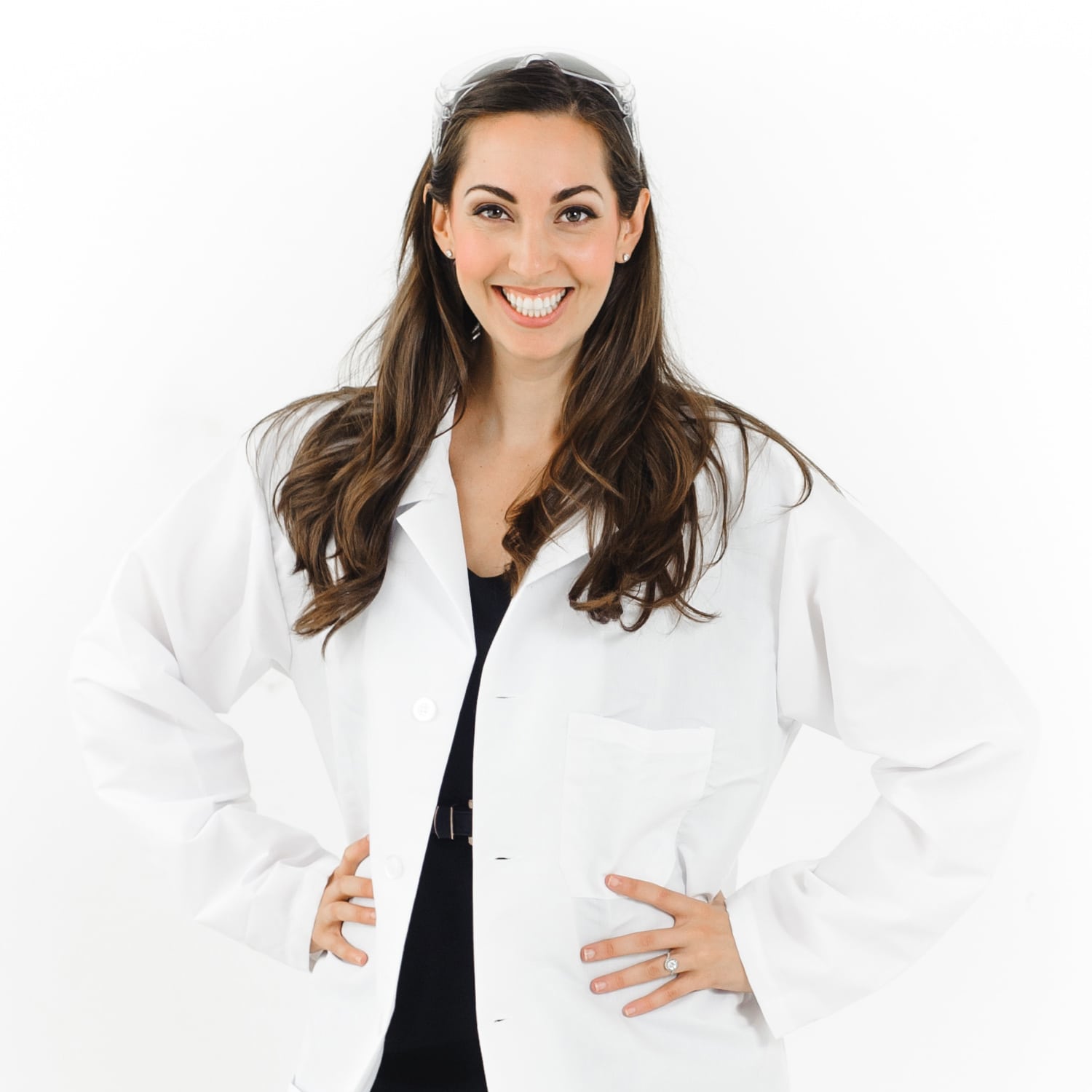 Hi, I'm Vanessa!
Lead Investigator, Science of People
I'm the author of the national bestselling book Captivate, creator of People School, and human behavioral investigator in our lab.